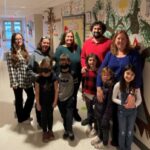 The goal of Oheb Sholom's religious school is to help each student develop into a thoughtful, mature Jewish adult.  Our educational programs focus on Judaic, Hebrew, and applying Jewish values within our community and beyond. At our religious school, we seek to share the gift of our Jewish heritage and our Reform tradition. The religious school program provides classes for Gan (kindergarten/first grade) through seventh grade.
Please contact our Religious School Director Holly Michelson at school@ohebsholom.org if you have any questions.
Now accepting applications online for the 2023-2024 school year!  You may print and submit the application and payment forms above if you prefer. Please submit the form by August 22nd.