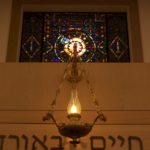 The custom of making a donation as an expression of prayer traces back to biblical times. By making a donation, we move beyond words into making a personal sacrifice. The amount of the donation is less important than the deed. Listed below are current Oheb Sholom funds. Unless otherwise noted, we request that you make a donation of at least $18.00.
Reform Congregation Oheb Sholom is a non-profit organization falling under the IRS's rules as a 501 (c)(3)  corporation. As such, your donations should be tax deductible.  Please check with your tax advisor to be certain.
Other Ways to Support Us
Shopping at Amazon.com? The AmazonSmile Foundation will donate 0.5% of the price of eligible purchases to Reform Congregation Oheb Sholom, at no cost to you, by starting your shopping here: https://smile.amazon.com/ch/23-1664967
Every dollar you spend with Giant, Redner's, Weis and Boscov's gift cards could also help Oheb Sholom at no extra cost to you! Contributions made through the purchase of store cards are used as needed for congregational operations. Contact Ellen Azrael, Barbara Rosenzweig or the secretary to get yours!