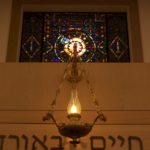 The mission of Reform Congregation Oheb Sholom is to strengthen our Reform Jewish community through fulfilling religious, cultural and social experiences.
Reform Congregation Oheb Sholom is a non-profit organization falling under the IRS's rules as a 501 (c)(3)  corporation. As such, your donations should be tax deductible.  Please check with your tax advisor to be certain.
For administrative convenience we ask that you observe our minimum of $18. We thank you in advance for your support.
Make a Dues Payment
Pay your dues online either as a annual lump sum or as monthly installments.  Please remember that to offer this convenience Oheb Sholom incurs a 3% fee, so please consider increasing your contribution accordingly.
To pay your dues online, select the "Donate" button below, then you will be asked to specify the amount, the method of payment (debit, credit or PayPal) and whether to make this payment each month.
Donate to Designated Funds
There are many funds that help support various areas of Reform Congregation Oheb Sholom.  We thank you for your contributions.
Other Ways to Support Us
Shopping at Amazon.com? The AmazonSmile Foundation will donate 0.5% of the price of eligible purchases to Reform Congregation Oheb Sholom, at no cost to you, by starting your shopping here: https://smile.amazon.com/ch/23-1664967
Every dollar you spend with select grocery store gift cards could also help Oheb Sholom at no extra cost to you! Contact Carole Kutscher or Barbara Rosenzweig to get yours!