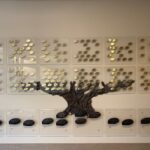 Share your joy with the congregation by adding a new leaf on the Tree of Life in our entrance hall. The leaf could be engraved for a birth, Bar/Bat/Brit Mitzvah, wedding, birthday, anniversary or any other happy occasion.
To commemorate your joyous occasion with an engraved leaf, please print and fill out the form below and submit it to the office with your tax deductible contribution of just $108 (or more if you wish!).
If you have any questions about this program, please contact Carol Cohn or the office.