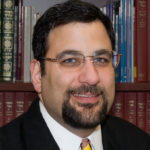 Welcome! I want to personally thank you for taking the time to explore Reform Congregation Oheb Sholom's website.
Oheb Sholom is a small congregation, about 225 family units, on the outskirts of Reading, Pennsylvania and we do not let our size keep us from being a very active community.  We dedicated our current building in 2000 and we are very proud of what we have built. However, we know that a congregation is far more about its people than its building.
We have a strong religious school and a wide variety of opportunities for a congregation our size.  We have adult education, a rabbi's book group, a weekly Torah study group, and Tot Shabbat. A significant portion of our children participate in URJ camps and our youth have been engaged with NFTY in the Pennsylvania region.  Our Sisterhood also provides programming for our congregation and community.  Our members are involved in a wide variety of social justice projects in the Berks County area. Each year we host a Jewish Food and Cultural Festival where we serve nearly 2,000 people over the course of single day. It is not only the congregation's largest fundraiser; it is an important opportunity for dialogue and
understanding. It has become one of the do not miss events of the Berks County calendar.
A congregation is about relationships and coming together as a community.  I hope you will consider becoming part of our community regardless of if you are simply passing through on a visit or making Berks County your new home.
L'shalom,
Brian I. Michelson, Rabbi