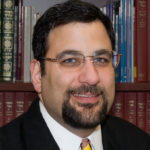 I want to thank you for taking a look at Reform Congregation Oheb Sholom.
Oheb Sholom is a historic congregation established in May of 1865 and we have been members of the Reform Movement since 1907.  We are a congregation of about two hundred family units in the suburbs of Reading Pennsylvania.  However, we try to program like a congregation twice our size.
We have a strong religious school program and a wide variety of adult opportunities.  We have a weekly Torah Study on Zoom that welcomes participants from all over the country, a Tot Shabbat program that can only be understood as "organized chaos", and volunteer opportunities to suit almost every interest.  We proudly send our students to several URJ camps and programs and our members are involved in a wide variety of social justice projects in the Berks County area and beyond.
We host an annual Food and Cultural Festival that is the biggest event on the Berks County Jewish calendar where we serve thousands of pounds of brisket, chicken, corned beef, and pastrami.  It has become one of the do not miss events in the region.  In addition, we take our civic responsibility seriously and we are both an evacuation site for the local elementary school and a polling place.
We love our beautiful building, but we know that, more than anything, a congregation is made up of members and relationships.  A beautiful building without a vibrant community is simply an empty building.  I hope you will consider joining our community whether you are simply visiting our area or if you are considering making Berks County your home.
L'shalom,
Brian Michelson, Rabbi