On Saturday May 13th at 7 PM, this year's Jeraldine Kozloff Night of Music will feature the Dave Posmontier Ensemble performing klezmer, Jazz, and other music featuring (mostly) Jewish composers. The Night of Music finances the Jeraldine Kozloff Music Fund, which, in turn, supports Oheb Sholom's annual music programming.
The Night of Music honors Jeri Kozloff's memory, raising money for the Jeraldine Kozloff Music Fund which supports Oheb Sholom's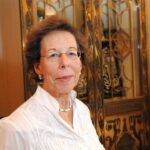 music programming, the wonderful performers that we will bring to the Temple to perform in our services and on other occasions.
Whether or not you can attend, you can support the Night of Music, and in turn, the Jeraldine Kozloff Music Fund.  We have various levels of giving, which will be recognized as a supporter in The Bulletin and on our website. Please write the amount you wish to contribute in the appropriate blank below. Minimum donation per household to attend is $18 (Chai).
Diamond:  $5000 or more
Platinum:  $2500 to $4999
Gold: $1000 to $2499
Silver: $500 to $999
Bronze: $100 to $499
Patron: $18 to $99
Please fill out the information below to donate through PayPal.