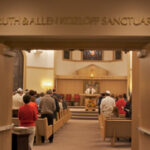 The sanctuary at Reform Congregation Oheb Sholom incorporates the rich history of the congregation in a comfortable, contemporary setting.
It includes stunning stained glass windows that had been part of the congregation's former building in Reading, which was constructed in the early 1920s. The windows were moved in a painstaking process when the congregation built its current home in the late 1990s.
The six largest windows pay tribute to key figures in the history of Judaism: The psalmists, the sages, the kings, the prophets, the patriarchs and Moses. The windows also recognize the 12 tribes of Israel.
Above the Ark in our sanctuary are words from Psalm 36, "For you are the fountain of life, by your light do we see light."